Welcome!
We're Glad You've Stopped by!
Our goal is to provide a welcoming environment for all visitors, recognizing that attending a new church can be a daunting experience. We aim to alleviate any apprehensions you may have and ensure that your first visit to Center Church is a positive and comfortable one. We have included helpful information on this page to answer any questions you may have, making your experience stress-free and meaningful.


What We Believe
Service Times
At Center, We hold multiple worship services every Sunday morning, beginning at 8:30. This is our Drive-in "Rise & Shine Service" and is held in the parking lot on the CFC side. Our Cen✝ered Service, (Contemporary Style) is held at 9:00 in the Christian Fellowship Center and features live music and modern praise and worship songs. Our 11:10 service is our standard traditional service with pew seating, choir, and accompaniment. In addition, both our 11:10 Sunday morning services and 9:00 Cen✝ered (Contemporary Style) services are live streamed on our Facebook channel and each service is also available as a recording on our Services Page.

Our Sunday school classes are held at 10:00 am, each Sunday. Our Sunday school is similar to small group ministries, with each class participating in Bible study, discussion, fellowship, and collective spiritual growth.
Drive-in "Rise & Shine" Service: 8:30 am, Parking Lot
Cen✝ered Service (Contemporary Style): 9:00 am, Christian Fellowship Center
Sunday School: 10:00 am
Traditional Service 11:10 am, Sanctuary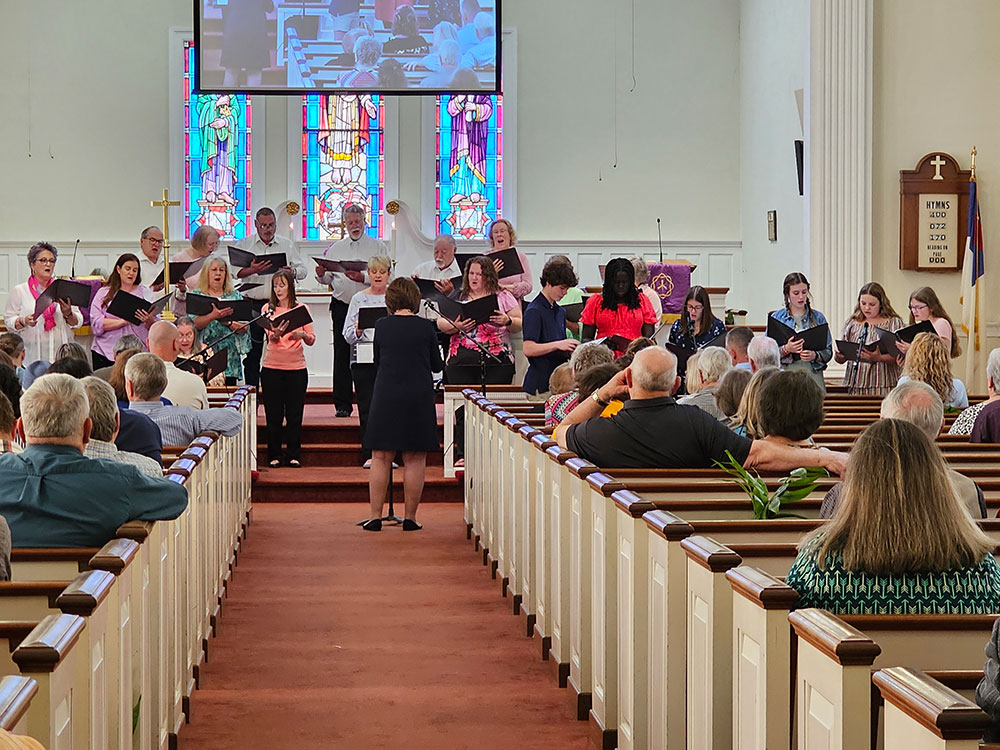 Drive-in "Rise & Shine Service"

The Rise and Shine Service is a parking lot drive in experience which began in response to covid. Twenty-Five to thirty persons connect with the Lord each week at 8:30 in an informal gathering from their cars.
Cen✝ered Service (Contemporary Style)

Cen✝ered contemporary worship service is a casual gathering that embraces friendliness and familiarity. The heart of our contemporary worship experience is the truth of God's Word and its power to renew our lives as stated in Ephesians 2:8 "For it is by grace you have been saved, through faith—and this is not from yourselves, it is the gift of God." It is knowing that we are covered in God's grace through faith that encourages us to live more like Christ.

Pastor Mitch Wilson shares a message that is a practical teaching from the Bible that will speak to your daily life, encouraging and uplifting you.

Our heartfelt contemporary worship music is led and performed by our Praise Leader, Josh York, and backed by the Cen✝ered Praise Band. The service begins with songs of praise and worship with the lyrics on screen to sing along. The band plays a variety of modern worship songs with an occasional old hymn. The entire family can share in this worship experience together.

We've worked to make our atmosphere more welcoming for the non-churched person so that they may be able to connect with the message/Bible and faith community. Join us in the relaxed atmosphere of our Christian Fellowship Center at 9:00 AM Sunday mornings. A light breakfast is served prior to the service starting at 8:30 AM.
Sunday School

God's heart and Center's desire is seeing His people grow and mature in faith to look more like Jesus. Several times each year, classes are held for anyone desiring to join Center Church. Sunday School classes meet each week at 10 am with great opportunities to grow and share with fellow believers. There are classes for all age groups.

Small groups are also available off campus and at the church. These classes meet to explore and grow deeper through fellowship and study of God's word.
Traditional Service

We are blessed to have three worship opportunities each Sunday morning. Our Traditional Service is our established service which incorporates all ages into worship. Our children bring in the Light of Jesus and His Word each Sunday morning as we begin the service. Our Children, Youth, and Chancel choirs sing God's praises along with the beautiful sound of our Handbell Choir. Church members of all ages share their faith with our little ones during the Children's Moment. Afterwards, they have the opportunity to continue learning God's Word in Children's Church.

We sing God's praise with beloved hymns with a nod to contemporary music. The Bible-based sermons are relevant to our daily lives and are filled with anecdotes, humor, and Biblical wisdom that speak to us in such a personal way that we crave to share His Word with others. Three approaches each Sunday, yet One Message!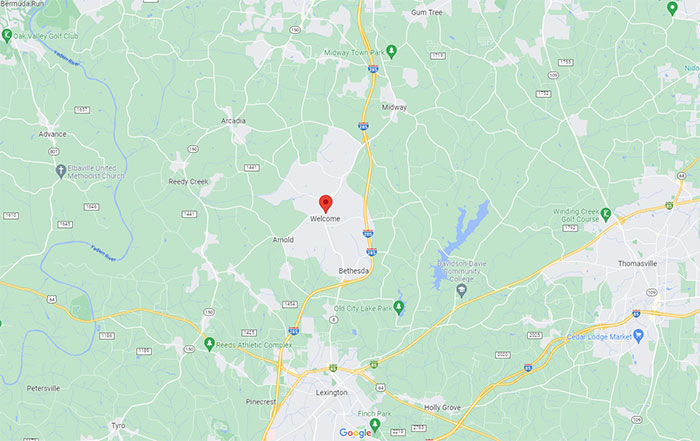 Location
Center Church of Welcome is located at 186 Center Church Road, Lexington NC 27295. We have plenty of parking available in one of two parking lots which are situated on either side of the main sanctuary, and in front of the Christian Fellowship Center. There are also handicapped spaces available directly beside the Fellowship Center side of the sanctuary.